Pig-Fest XVIII - August 20, 2011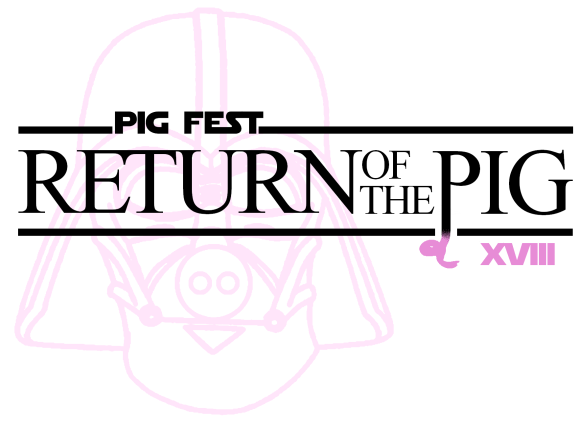 You, your family, and your friends are all invited to the 18th annual pig roast and party on Saturday, August 20, 2011, held at the Paff Entertainment Complex (PEC). The critically acclaimed five star PEC chefs will prepare the exquisite whole hog to tantalize your taste buds. Dinner will be served around 5:00 PM assuming everything goes as planned.
Please bring a covered dish or dessert that is your specialty and/or that everyone will want to pig out on and lawn chairs to rest your haunches. Also don't forget to bring a cooler of your favorite adult beverages to enjoy throughout the day. Non-alcoholic drinks (including pop, tea, lemonade, etc.) and hot-dogs (for those who prefer pig parts instead of real pig) will be provided.

The quest for the "Pig Cup" (otherwise known as the whiffle ball tournament) will start promptly at 2:00 PM. Each team, consisting of three players, will compete for the honor of having their names inscribed on the prestigious trophy. Every year the teams fill quickly, so if you would like to play please arrive early. There will be no spots held.

The very popular cornhole tournament will take place once again. The PEC only has two cornhole sets, so please bring yours along so more people can join in the fun!!!
Back by popular demand, MER! You may remember this one man band from his performances at the 2006, 2007, and 2009 roasts. Passion, discipline, raw energy, and focused talent are what you'll encompass when you experience the music of MER.
Come early, come late, we start the pig before the sun comes up and we don't stop partying until everyone is gone, the beer runs out, or the police shut us down (again).
For those who want to stay and see the sun rise (or can't drive home), an area for setting up your tent out back will be provided (inside accommodations must be preapproved by PEC staff ;).
The entire staff of the PEC looks forward to seeing you on August 20th!!!
Click here to RSVP and to see a list of those who are going to attend this year's Pig-Fest on facebook.